Ultrasound Gel WarmerProviding warmth and comfort to the patient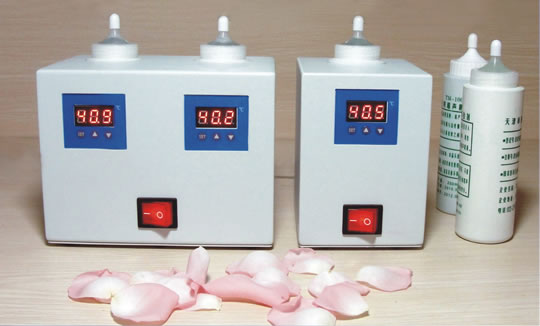 Warm up to body temperature
No cold chill any more
Warm care to your patience
More relaxation to the diagnosis
Readily be used by diagnostician
CE Certificated
LED real-time temperature display
Maintain constant temperature
Adjustable temperature controlling
Energy saving design
Low electricity demanded <30w,15w

◇100v-240v ◇Celsius/Fahrenheit display ◇Double/Single bottles ◇Multinational plugs

Want to relief the nervous,cold and uncomfortable feeling of your patients when they do the ultrasound diagnosis? You can do this simply by using our coupulant warmers.Just put the bottle of ultrasound gel into the Warmer and it will be warmed at a comfortable temperature constantly.Using this warm coupulant,even your baby clients would feel comfortable to your diagnosis for no cold to their bodies any more.

We use electronic thermostats for the Warmers. The temperature is controlled precisely.You can set the temperature from 35℃ to 80℃. The real-time temperature of the cups will be showed on the LED screen.

We have multiple standards of the power input(100v to 240v),temperature display(Celsius or Fahrenheit), and powder plugs styles to meet your local compatibility.

There are different housing material(steel or stainless steel) and surface finish(polishing or powder coating) available. We can also make to the desired functions you want.
Products
Heat Exchangers
Spiral Coils
Warmers
Metal Working
Contact
RATO HEAT EXCHANGERS FACTORY
TEL:+86-757-8283 0207
FAX:+86-757-8282 5365
Email:master@dhhe.cn
Add: No.13 of 3,4th line,Xiyue Industrial Dist.,Jiangbian,Chancheng,Foshan,Guangdong,P.R.China.